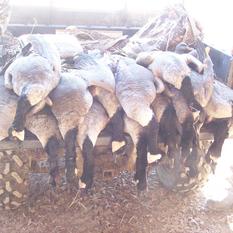 Southernhonkers.com offers some of the best Goose Hunting in Southern Illinois.  Local guide and Calling Champion, Tony Skobel is at your service to make your trip a one of a kind.  

 Tony offers sixteen years waterfowl experienceand is very knowledgeable of the area. 

    All hunts are out of heated pits, that can fit four hunters.

Are pits are located around the Rend Lake Refuge and Waterfowl Management Area.  Daily hunts are from shooting hours till noon. We like to let our fields rest for the afternoon. Some afternoon hunts are available according to the migration of geese. Daily hunts are 100 dollars a man.

   You've been to the rest, now come hunt with the best. Southernhonkers.com has a good success rate and wants to make your hunting trip one to remember.

           Now booking hunts for the 2011-2012 season.

           Call tony at 618-927-0805 or email @

                   tonyskobel@yahoo.com

Will also offer guided hunts around the Crab Orchard Refuge in Marion IL.